We've been kicking around this design for a little bit and decided we'd offer a tribute shirt for every knifemaker's favorite band, A2/D2. The pre-order will be open until Noon EST on Sunday, April 29. Production time on the shirts is approx. 2 weeks, so they should ship out to you the week of May 14th and arrive to you just in time for Blade Show 2018. You will want to wear one to Blade Show as there will likely be a cool giveaway that may only be entered by folks wearing this special MotM A2/D2 shirt. Details to follow in the Facebook group and on the podcast itself.
These are Gildan 5.3 oz. 100% pre-shrunk cotton shirts and printed on both sides. The Mark of the Maker icon logo is on the front center chest and the rear print incorporates all four makers marks. Printed in white on black, just like any proper knifemaker t-shirt should be. Why? Because them's the rules.
These limited-edition shirts are ** PREORDER CLOSED **, shipped to US addresses. More for 2XL-4XL, details in the PayPal button below. There will be an additional $15-30 for overseas shipping, please contact us using the Contact Us form along the right hand side of the page for a shipping quote for international destinations.
*** SHIRT PRE-ORDER IS CLOSED ***
Front Design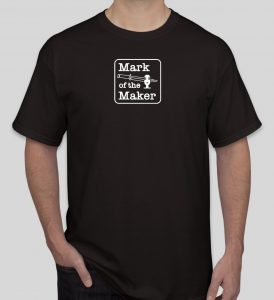 Back Design